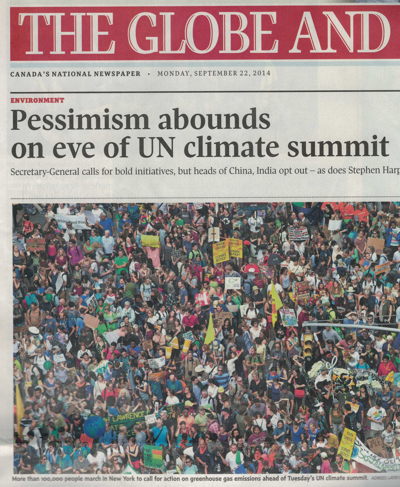 It's been a depressing year for anyone watching our climate and the health of the living Earth. Part of the West Antarctic ice sheet has melted past the point of no return, locking in enough sea level rise to drown huge coastal areas. New craters have been found in Siberia that may herald the beginning of a long-feared massive methane release from the tundra, leading to runaway global warming. Yet, decades after countries first pledged to cut back on carbon emissions, greenhouse gas levels are rising faster than ever before. And last month the World Wildlife Fund declared that the total animal population on the planet is now only half what it was in 1970. That's half of the animals on Earth, lost in my lifetime.
But it's also been an exciting and hopeful year. The year that solar and wind power became cheaper than fossil fuels, even without subsidies, in several US states. The year that the fossil fuel divestment movement really took off, with universities, foundations, pension funds, the British Medical Association, and even the Rockefellers taking the pledge to divest. The year that 400,000 people marched through New York on the People's Climate March.
The conflicting moods of the year are summarized well by the front page of the Globe and Mail, September 22, shown here: "Pessimism abounds on eve of UN climate summit", but the photo shows hope in action, as an unprecendented number of people join together on the People's Climate March.

This month, in honour of Canadian Thanksgiving, we are going to focus on the good news.